GE HealthCare
Discover in
one minute

how Service shop benefits

YOU!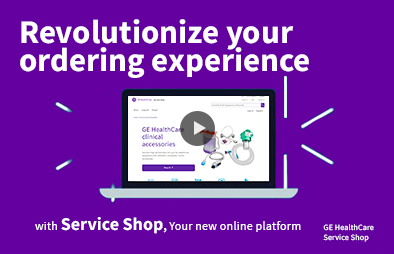 Enjoy Service Shop advantages
Real-time inventory

Detailed product descriptions

Order & tracking notifications

Customized spend reporting

Pay by PO

And more
Three easy steps
Register now
Complete the registration form. If possible, fill in your GE HealthCare customer number to speed the registration process.
Where to find my GE HealthCare customer number?

GE HealthCare customer service will process your registration typically within one business day.

Receive your welcome email with your user ID and temporary password and start shopping!
Client Testimonials
Hear it from our members

Rémi Pharisier, Logistic and Biomedical Manager, Antony private hospital (France)
One of the strengths is the ease of finding a product, even if you don't know what it is. The other advantage is the immediate display of prices which allows instant comparison with other suppliers. With Service Shop everything is centralized, which avoids errors, making monitoring easier and saves me time.

Cristina Zubia, Purchasing Manager, Matclinic (Spain)
I've been using the platform from the beginning, and it is so helpful. The platform shows your previous orders, which helps you look for articles that you need. This customization helps you save time and avoid mistakes.
For me, the platform is a really good idea.